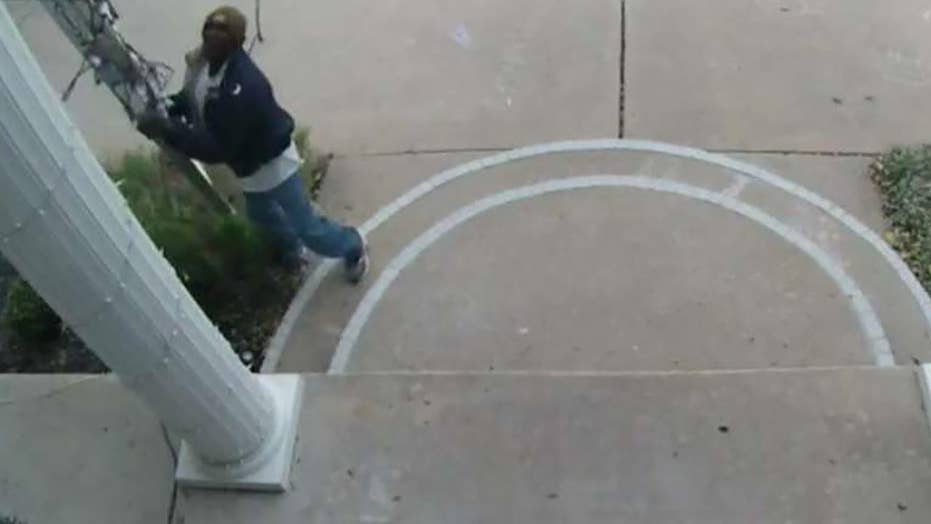 Veteran panics over Clark Griswold Christmas display
Man tries to save a dummy hanging off a roof not realizing that it's a decoration inspired by the classic scene in 'National Lampoon's Christmas Vacation.'
It may be beginning to look a lot like Christmas across parts of the country, but one set of holiday decorations sparked panic in a Texas neighborhood.
The Heerlein family in Austin had decked out their home as a tribute to "National Lampoon's Christmas Vacation," complete with a mannequin dressed as Chevy Chase charter Clark Griswold hanging from the roof. In the movie, Griswold suffered a mishap putting up Christmas lights.
But the mannequin hung by Chris Heerlein was apparently a little too realistic, startling a passerby last week who panicked and tried to save the Griswold stand-in — and called 911, KVUE reported.
A NEST camera at the door of the home captured the whole incident as the man tries to save what he believes to be a person.
"Oh mister, please hold on!" the man could be heard saying in the video as he struggles with a nearby ladder to rescue the mannequin.
NEIGHBOR HELPS FAMILY IN DRAMATIC HOUSE FIRE RESCUE: 'HE'S A GIFT FROM GOD'
"He was doing everything he could to get the ladder! And be like 'Save Clark!'" Heerlein's sister-in-law, Leah Wheless, told KVUE. "He didn't give up. Whatever he had to do, he was going to save old Clark Griswold."
Austin police eventually arrived after the 911 call. The homeowners felt so bad about the incident they got in contact with the concerned passerby, a retired veteran identified only as "Alfred," and gave him a gift card as an apology.
"I was trying to get him down anyway I can. Except when I started talking to him, he never said nothing!" Alfred told KVUE. "Then I thought, 'Oh my God, I hope he's not dead, lemme call 9-1-1.'"
The family has since put a sign out in front of the display asking others to not call 911.
Source: Read Full Article