An Ethiopian Airlines plane with 157 people on board has crashed on its way to Nairobi in Kenya, with deaths reported.
The Boeing 737-8 MAX, carrying 149 passengers and eight crew members, was on a regular scheduled flight when it came down, just six minutes after taking off from the Ethiopian capital, Addis Ababa.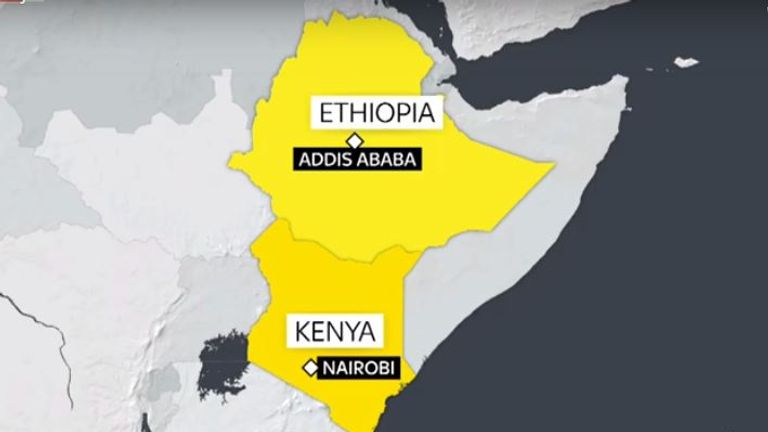 The airline said Flight ET 302 had crashed near the town of Bishoftu, some 31 miles (50km) southeast of the Addis Ababa.
The jet left the airport at 8.38am local time before losing contact with the control tower at 8:44am.
The plane "had an unstable vertical speed" after take-off, according to the flight tracking website Flightradar24.
The aircraft is just a few months old, having taken its first flight at the end of October.
It is the same type as the Lion Air plane which crashed into the see off Indonesia last year killing all 189 on board.
In the wake of that disaster Boeing issued a warning to airlines using its 737 MAX planes after a sensor failure was identified as a potential cause of the crash.
Ethiopian Airlines said in a statement: "At this time search and rescue operations are in progress and we have no confirmed information about survivors or any possible causalities.
"Ethiopian Airlines staff will be sent to the accident scene and will do everything possible to assist the emergency services."
The airline has posted in a tweet emergency numbers to call.
The Ethiopian prime minister's office has offered condolences to families.
The state-owned Ethiopian Airlines is one of the biggest carriers in Africa by fleet size.
It has said previously it expected to carry 10.6 million passengers last year.
The airline's last major crash was in January 2010, when a flight from Beirut went down shortly after take-off.
More follows…
Source: Read Full Article