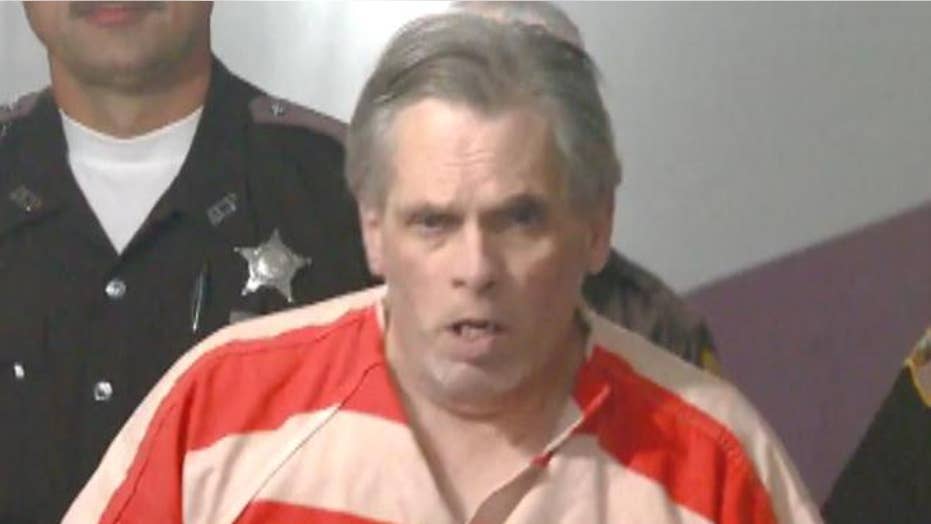 Man accused of April Tinsley's 1988 murder arrives in court
Indiana prosecutors have obtained a guilty plea in the cold case murder of an 8-year-old girl that was solved using a genealogy website.
John Miller, 59, agreed to serve an 80 year-prison sentence as part of the plea deal, according to reports.
Miller was charged in July with raping and killing the girl, April Tinsley, in Fort Wayne 30 years ago.
His arrest came after DNA from the crime scene was uploaded to the GEDMatch website.
INDIANA MAN ARRESTED IN 1988 RAPE, MURDER OF 8-YEAR-OLD GIRL AFTER DNA MATCH FOUND ON USED CONDOMS, COPS SAY
"On April 1, 1988, I abducted April Tinsley," Miller told an Allen County judge Friday, according to the Fort Wayne Journal Gazette. "After abducting her, I had sexual intercourse with her. I strangled her with my hands, killing her."
April's mother was in the courtroom as Miller addressed the judge, according to the paper.
"Right now, it's emotional," Janet Tinsley told the paper.
The Journal Gazette reported that the plea brought to a close perhaps the most notorious criminal case in the history of northeast Indiana.
FEBRUARY TRIAL SET FOR INDIANA MAN CHARGED IN 1988 SLAYING
The case was featured on national broadcasts including "America's Most Wanted," according to the paper.
Miller had a February trial date. His sentencing is set for Dec. 31.
Source: Read Full Article