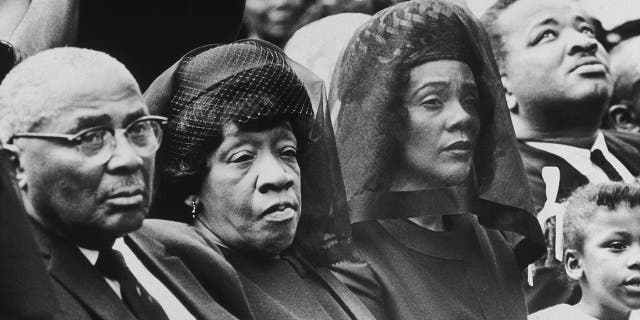 The parents and the widow of assassinated civil rights leader Dr. Martin Luther King Jr. listen to ceremonies at Morehouse College during a memorial for King shortly after his death, Atlanta, Georgia. L-R: Reverend Martin Luther King Sr., his wife Alberta King, Coretta Scott King, and King Jr.'s daughter Bernice. (Photo by New York Times Co./Getty Images)
On this day, April 9 …
1968: Funeral services, private and public, are held for Martin Luther King Jr. at the Ebenezer Baptist Church and Morehouse College in Atlanta, five days after the civil rights leader was assassinated in Memphis, Tenn.
Also on this day:
1865: Confederate Gen. Robert E. Lee surrenders his army to Union Lt. Gen. Ulysses S. Grant at Appomattox Court House in Virginia.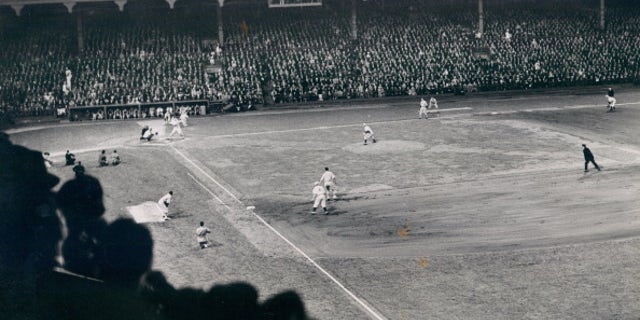 (Sports Studio Photos/Getty Images)
1913: The first game is played at Ebbets Field, the newly built home of the Brooklyn Dodgers, who lose to the Philadelphia Phillies, 1-0.
1939: Singer Marian Anderson performs a concert at the Lincoln Memorial in Washington, D.C., after being denied the use of Constitution Hall by the Daughters of the American Revolution.
1942: During World War II, some 75,000 Philippine and American defenders on Bataan surrender to Japanese troops, who force the prisoners into what became known as the Bataan Death March; thousands die or are killed en route.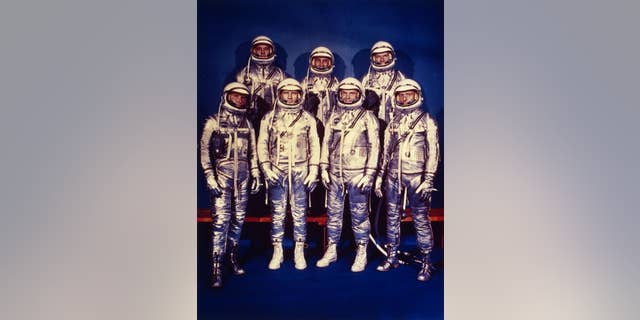 1959: The seven astronauts of NASA's Mercury programme: Walter M Schirra, Deke Slayton, John Glenn Jnr, M Scott Carpenter, Alan B Shepard Jnr, Virgil I Grissom and Leroy Gordon Cooper Jnr. (Photo by MPI/Getty Images)
1959: NASA presents its first seven astronauts: Scott Carpenter, Gordon Cooper, John Glenn, Gus Grissom, Wally Schirra, Alan Shepard and Donald Slayton.
1959: Architect Frank Lloyd Wright, 91, dies in Phoenix.
1965: The newly built Astrodome in Houston features its first baseball game, an exhibition between the Astros and the New York Yankees, with President Lyndon B. Johnson in attendance. (The Astros would win, 2-1, in 12 innings.)
1979: Officials declare an end to the crisis involving the Three Mile Island Unit 2 nuclear reactor in Pennsylvania, 12 days after a partial core meltdown.
1983: The space shuttle Challenger ends its first mission with a safe landing at Edwards Air Force Base in California.
1984: "Terms of Endearment" wins five Academy Awards, including best picture, best actress for Shirley MacLaine and best supporting actor for Jack Nicholson.
1992: Former Panamanian ruler Manuel Noriega is convicted in Miami of eight drug and racketeering charges; he would serve a 17-year U.S. prison sentence.
2003: Iraqis celebrate the collapse of Saddam Hussein's regime, beheading a toppled statue of their longtime ruler in downtown Baghdad and embracing American troops as liberators.
2018: Federal agents raid the office of President Trump's former personal attorney, Michael Cohen, seizing records on matters including a $130,000 payment made to porn actress Stormy Daniels. 
2018: Opening statements begin in the retrial of Bill Cosby, charged with drugging and molesting Andrea Constand at his suburban Philadelphia home. 
2019: Attorney General William Barr reveals that he is reviewing the "conduct" of the FBI's original Russia investigation during the summer of 2016, following calls from Republicans to investigate the origins of the probe.
Source: Read Full Article