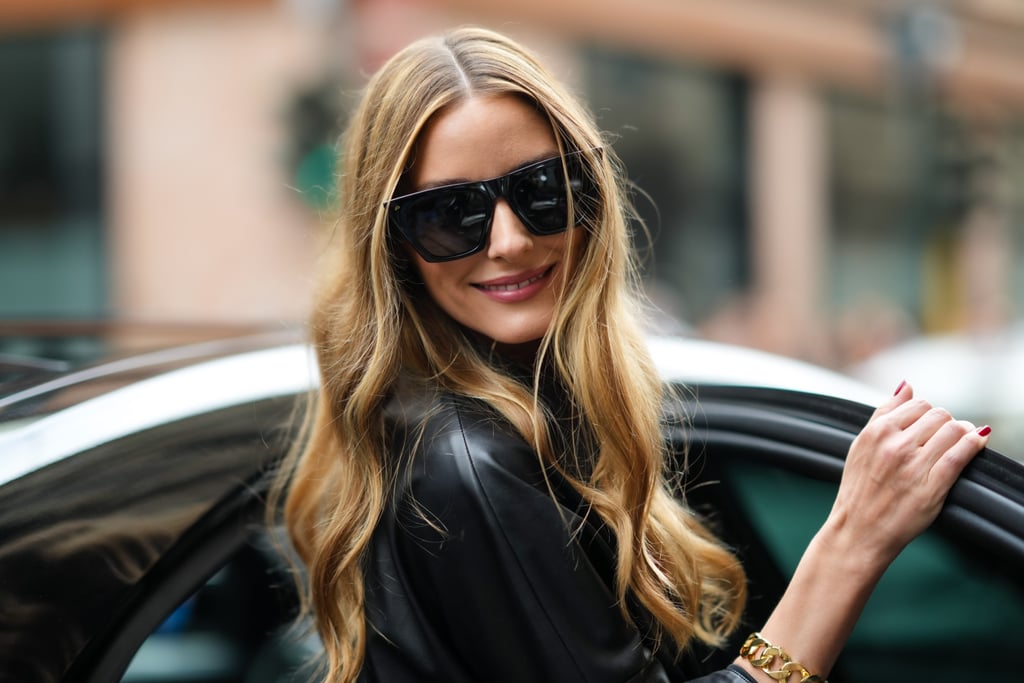 Hair Gloss Treatments: the Quickest Way to "Liquid" Hair

As POPSUGAR editors, we independently select and write about stuff we love and think you'll like too. If you buy a product we have recommended, we may receive affiliate commission, which in turn supports our work.
A hair-gloss treatment is your one-way ticket to shiny, "liquid" hair.
Hair glosses can be clear or contain color and have many benefits, including enhancing a dye job and boosting shine.
The best treatments are done professionally at a salon, although you can also do a hair gloss at home.
A trip to the hair salon, as relaxing and transformative as it may be, can feel a little stressful if you don't know the lingo and terminology that your stylist is using — especially when they're talking about hair color. From toners and semipermanent hair dyes to hair glazes and glosses, there can be a lot of confusion around what's best for you and your particular needs.
For example, did you know that getting one 10-minute hair gloss at the salon can keep your color vibrant for weeks (sometimes months) at a time, minimizing the need for touch-ups? Or, that even if you don't dye your hair at all, you can still see major results from the treatment? It's the quickest way to get that glassy, "liquid" shine you've seen all over the red carpet. The key is figuring out what to ask for.
That's where we come in. Below, with some help from professional hairstylists, we're answering all your hair-gloss questions, including what it is, how can enhance your hair color, and what to do if you want to try the treatment at home.
What Is a Hair Gloss?
Technically speaking, "a hair gloss is a demi-permanent hair color," Steven Picciano, hairstylist and national artist for Goldwell, tells POPSUGAR. (Unlike semi-permanent color, which washes out within a week or so, demi-permanent treatments tend to last a bit longer; Goldwell's Colorance Gloss Tones, for reference, will last up to 25 shampoos.) "That means pigment sits on top of and just under the surface of the hair's cuticle. This means no hard lines, no out-growth, just a soft fade of color as time goes on."
The treatment can be applied in a few ways: either immediately after a fresh dye job as a second step to enhance the existing color, or separately to add pigment to color that's faded over time (or to give virgin hair a boost of shine). It can also be used to remove unwanted tones in hair, such as brassiness from blond shades.
Professional gloss treatments are typically done in 10 to 20 minutes, depending on the individual salon (and the brand of professional gloss it stocks), your hair's current color or condition, and the stylist's recommendation.
Who Would Benefit From a Hair Gloss?
The good news is hair glosses can work on any hair type, no matter how fine, coarse, curly, or straight. "Glosses have a low pH so they help to smooth hair and close the cuticle while adding shine and improving comb-ability," says Picciano.
Still, there are different approaches to using a hair gloss depending on your individual hair color. For a single process color, "we would color-balance your hair to richen the tone of your ends or cut any brass from too much sun or heat styling," he says. "Highlighted hair would do best with a gloss that tones to the perfect shade of blond. Glosses for gray hair can neutralize unwanted yellow with cool violet tones or add shine where it's more coarsely textured or feel a little dull."
If you don't have color-treated hair, you can still benefit from a hair-gloss treatment — just in a different way. Hair gloss can be applied to virgin hair to seal the cuticle, adding shine and smoothing frizz."However, glosses carry more of a noticeable impact for color-treated hair since it treats the eventual color fade that results from coloring the hair," says L'Oréal Paris style and color expert Jonathan Colombini. Still, if you're happy with your current hair color and not looking to change or enhance it in any way, he recommends using a clear gloss.
The Difference Between Hair Gloss vs. Hair Glaze
At the salon, you may be presented with the option to get a hair gloss or a hair glaze. While they sound similar, and can enhance your color and shine similarly, there is a difference between the two treatments. It all comes down to life span.
"Glazes do not have any ammonia or peroxide in them, so they can last only up to a week and a few days, whereas glosses do have low levels of ammonia and peroxide, so [they] can last anywhere between four or five weeks," says Colombini. Depending on how frequently you shampoo your hair, your glaze may wash out faster.
Can You Do Hair Gloss at Home?
"The biggest difference between at-home and in-salon gloss treatments is simply the range of color possibilities," says Picciano. "The stylist has the ability to create your perfect color, achieving the best possible application. It is much easier for your stylist to apply evenly and saturate well — two things that impact the end result of a color gloss."
Still, just as there are professional-grade DIY hair-color kits to do at home, there are hair-gloss treatments for at-home use that are great for maintenance. They're particularly handy if you just want to give your hair a light refresh without trekking all the way to the salon.
A few of our favorites include the Madison Reed Color Reviving Gloss ($30) and the Hally Fluffy G Foamy, Glazey Hair Gloss ($15). Colombini recommends the L'Oréal Paris Le Color Gloss ($15), which comes in 13 colors. "It's a one-step, no-mixing, coloring conditioner that enhances your color while boosting shine."
Hair Gloss Before and After Photos
Ahead, keep scrolling for before and after photos of hair-gloss treatments.
Source: Read Full Article