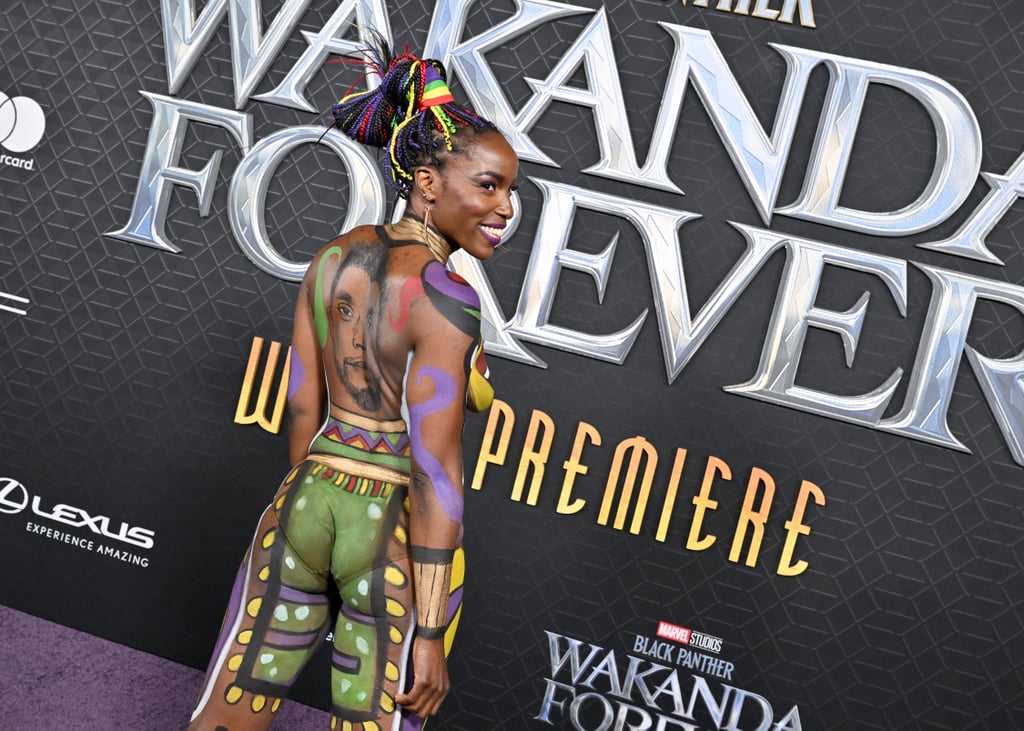 Janeshia Adams-Ginyard's "Black Panther 2" Premiere Body Paint Honors Chadwick Boseman

Janeshia Adams-Ginyard didn't wear clothes to the "Black Panther: Wakanda Forever" premiere on Oct. 26. Instead, the actor and stuntwoman covered her entire body in paint, paying tribute to late costar Chadwick Boseman, who played T'Challa in the first "Black Panther" movie and passed away before filming the sequel.
The main focus of Adams-Ginyard's body art was a large statement illustration of Boseman's face on her back, but the finer details were a tribute to her ancestors. "Full Body paint like what my ancestors did to recognize events," Adams-Ginyard captioned an Instagram video of her thoughtful attire. The clip showed her gracing the red carpet wearing a velvet cape that she removed to reveal vibrant, multicolored body paint with tribal designs over her bare skin, courtesy of artist Jo Steel. While the body art was very clearly paint, it simultaneously resembled jewelry and clothes.
On Adams-Ginyard's wrists, Steel's art echoed long, regal, gold cuffs, which correlated with a collar-like necklace design on her neck. Her entire chest was covered in abstract, intertwining swirls that comprised a breastplate-like design. Beneath it, Steel painted a panther, an image from the film itself, right across her belly button.
For a closer look at the star's body paint and beautiful homage, keep reading.
Source: Read Full Article