The wife of John Legend, who is currently expecting another child with the singer, receives nasty comments about her supposed different face after posting a new picture featuring her with her son Miles.
AceShowbiz -Despite her constant social media presence, Chrissy Teigen has made her followers confused about her supposed different looks from time to time. Having faced criticism anew about her appearance, the model has now clapped back at trolls accusing her of doing something to alter her face.
Chrissy raised questions and speculation about her look after posting a new picture with her son Miles. In the image she shared on Instagram on Sunday, August 7, the currently pregnant star and the 4-year-old boy are grinning from ear to ear while enjoying a boat ride. "keeping up with this one somehow," she captioned it.
Instead of paying attention to the mother-son duo's sweet moment, an Instagram user commented on Chrissy's look. "Don't even recognize her," the said user wrote in the comments. Clapping back at the troll, the 36-year-old wrote back, "I have had these teeth for like 10 years."
Another user commented, "You're beautiful, why do you keep changing your face? I didn't recognize you in this pic." Summing up her response to everyone's criticism, Chrissy wrote, "U guys are somethin."
Meanwhile, a fan came to her defense as writing, "She literally looks the same. Wtf is wrong with everyone's eyes in these comments. She has just has her makeup done. Obviously." In response, Chrissy wrote, "What's funny is I usually do full glam or nothing at all and this time I took 10 mins to do it myself and I never am again lol."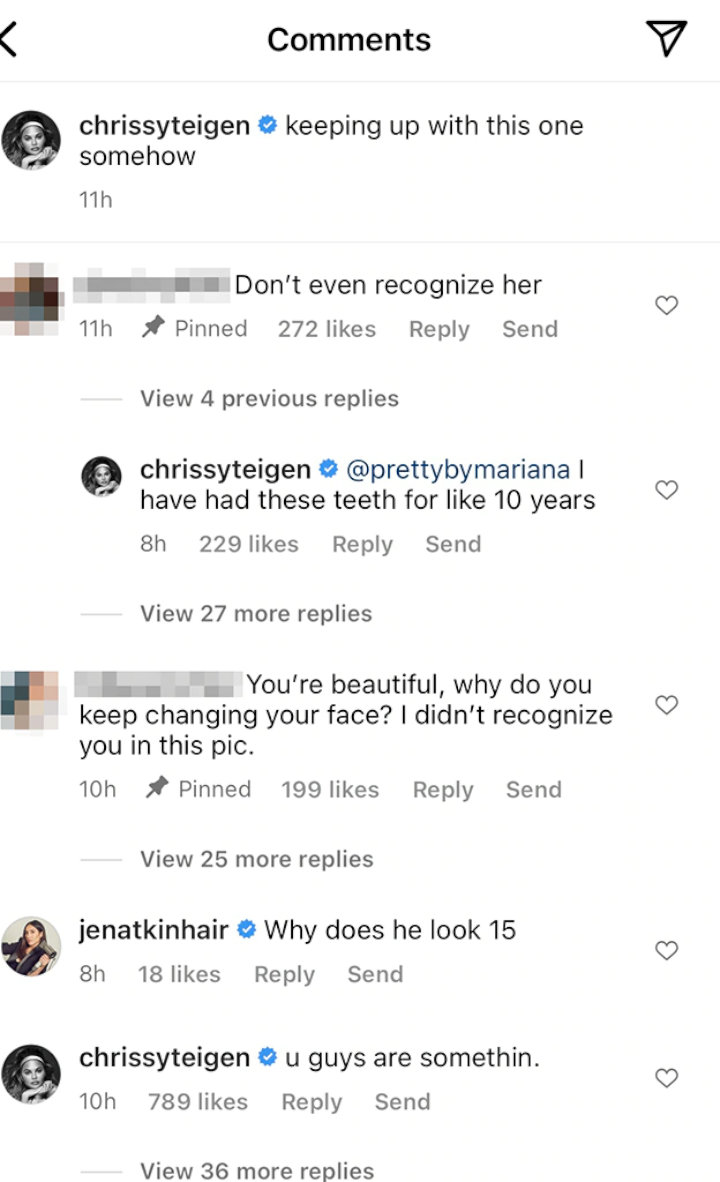 Chrissy Teigen clapped back at trolls accusing her of 'changing' her looks.
Chrissy has been honest about any cosmetic procedures she's done to her face and her body. Back in November 2021, she revealed that she had an eyebrow transplant surgery to create a fuller look. "I never wear makeup if I can avoid it so I was so excited for this eyebrow transplant surgery where they take hairs from the back of your head!" she captioned an image featuring her wearing a white outfit, seemingly ready for the surgery.
The cookbook author then showed off the result of the eyebrow transplant. She couldn't hide her excitement as she gushed, "This is right after surgery!! Crazy!!"
Prior to undergoing the eyebrow transplant surgery, Chrissy went under the knife to remove fat from her cheeks. Also coming clean about it on Instagram Story, the former "Lip Sync Battle" co-host revealed in September of the same year that she paid a visit to famed plastic surgeon Jason Diamond to have a buccal fat removal.
"I did that Dr. Diamond buccal fat removal thing here," she said in the clip, pointing to her newly sculpted cheekbones, adding, "And since I quit drinking, I'm really seeing the results, and I like it. Yeah, I did it, what?" She captioned the footage, "No shame in my dr diamond game."
Source: Read Full Article