After teasing the hours-long process for her transformation into a giant earthworm, the model debuts the complete look at her annual party where her husband Tom Kaulitz dresses up as a fisherman.
AceShowbiz -The queen of Halloween is back and she is not one to disappoint her fans. Bringing back her annual tradition after a two-year break due to the COVID-19 pandemic, Heidi Klum has unveiled her epic 2022 Halloween costume.
For this year's spooky season, the supermodel dressed up as a giant eathrworm on a fishing hook. She debuted her complete makeover on the blue carpet of her annual Halloween party, with her husband Tom Kaulitz standing in as the fisherman who hooked her and lost his eye in the process.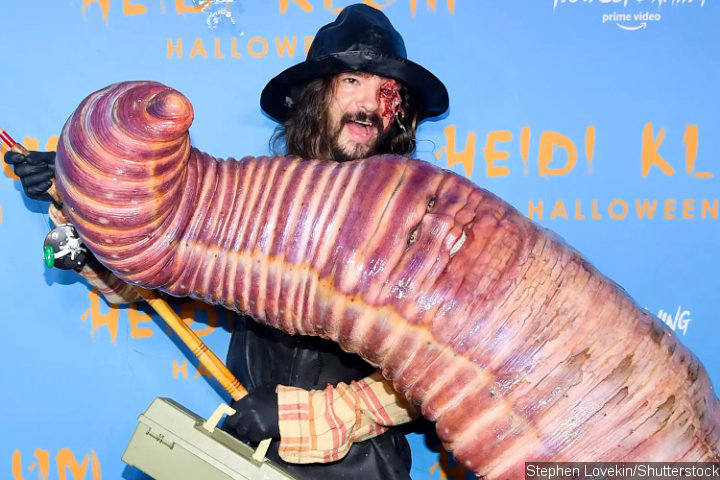 Heidi Klum dressed up as a giant earthworm on a fishing hook for this year's Halloween.
The realistic piece featured ridges and was made complete with a curved head and long tail. Heidi's entire body was covered by layers of prosthetics, with the exception of her eyes and mouth.
She also wore tan sneakers, which were seen peeking through, to help her mobilize. The 49-year-old was wobbling on the blue carpet and getting down on the ground to do the worm dance move.
Tom, meanwhile, sported a bloody eye and a black round hat with unkempt hair to portray the fisherman. He also donned a plaid shirt and black boots while carrying a fishing rod.
"This costume took a very long time," Klum told ET's Rachel Smith while lying on the ground as cameras snapped pics. "It took several months." She revealed that last year she "wanted to be a tree," but Tom "thought that would be difficult to do, so I started thinking outside the box."
Before unveiling her Halloween costume at the party, Heidi went live with Amazon alongside her "Making the Cut" collaborator Tim Gunn to give viewers a glimpse at her getting-ready process. The runaway beauty was careful to not give too much away about her look, keeping herself wrapped in a Halloween-print sheet while her team worked on her makeup. She said she started getting ready at 11 A.M.
One day earlier, Heidi also teased her Halloween costume by sharing an NSFW pic. In the selfie posted on Instagram, the Germany-born model was almost completely naked as she went topless while pulling down her black panties to show her tan line around her waist. "Halloween Prep 1st step!! Tanning with @jimmyjimmycoco," she captioned it.
Source: Read Full Article