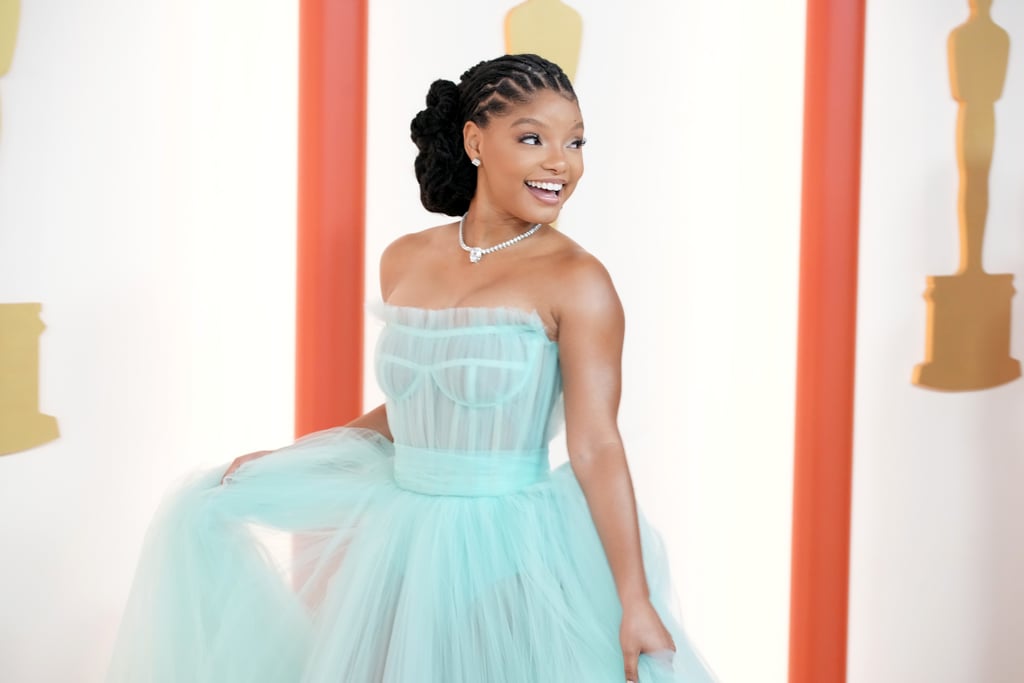 Despite portraying Ariel in Disney's live-action version of "The Little Mermaid," Halle Bailey dressed like a different princess for the 2023 Oscars. On March 12, the actor-singer arrived on the red carpet in a show-stopping tulle dress resembling Cinderella's ballgown. With a corset bodice and sheer panels, the sweeping number came in a beautiful shade of sea blue, likely a nod to the on-screen mermaid's turquoise tail.
"I was really excited to wear this beautiful dress to go into the fairytale world and give them a princess for one day," Bailey said in a E! red carpet interview. She leaned towards simple accessories, wearing matching blue heels and a diamond statement necklace, to highlight the striking gown. Her stylist Nichole Goodman described the starlet's dress as a "soft launch" for what's to come in "The Little Mermaid" press tour, according to E!
Bailey, who's presenting an award during the award ceremony, joined other glamorous stars on the red carpet, including Cara Delevingne in a one-shoulder red slit dress, Florence Pugh posing in a unique mullet dress, and Ana de Armas channeling Marilyn Monroe in a sparkly white gown.
See more photos of the Disney princess's look from all angles ahead.
Source: Read Full Article