After learning her costar's diagnosis, she repeatedly asked how Guerdy knew she had breast cancer — before Larsa then shared the news with more in the cast despite being told by Abraira to keep it private.
The moment Real Housewives of Miami's Guerdy Abraira revealed her breast cancer diagnosis to costar Larsa Pippen has been shared — and her reaction certainly has people talking on social media.
The Instagram account Queens of Bravo shared two preview clips from this week's upcoming episode to their page over the weekend, first showing how Guerdy broke the devastating news to Larsa. The pair initially met up to discuss some tension between them, after Guerdy called Pippen "fake" in an interview, with Pippen wondering why Abraira was crying throughout their meeting in the previous episode.
Waiting for your permission to load the Instagram Media.
Instagram Media Unavailable
"I have breast cancer," Guerdy declared in the new footage, continuing the conversation from the prior hour.
"How am I supposed to know that? You have breast cancer? How do you know? How do you know? How do you know, Guerdy?" Pippen said in reaction, questions which seem to catch Abraira off guard.
"Are you seriously asking how I know I have breast cancer?" said Guerdy, as Larsa asked "Like you went to the doctor and they told you?" Abraira's reaction: "It's called a mammogram, Larsa."
"Oh my god, I'm so sorry, I didn't know. Don't put this whole situation on me now, I'm sorry, you never told me, I didn't know," Larsa continued, as Guerdy interrupted her and asked Pippen to let her speak.
"You need to listen. I just want you to listen to me. I need you to give me a safe space to be myself. Don't judge, don't say anything to me," said Guerdy, who added that she was only the fourth person in the cast who knew the news. "I hope you take it in as, 'Wow, that's a big thing to share and trust me with, because I haven't shared with anybody else," she continued, saying she didn't have the energy for any petty drama between them.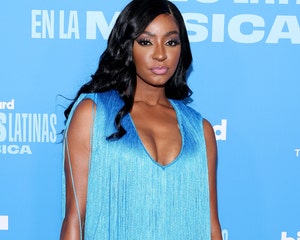 RHOM Star Guerdy Abraira Reveals Breast Cancer Diagnosis: 'This Process Is Definitely Intense'
"I wish you would have told me this when you first sat down," said Pippen, as Abraira said that wasn't exactly news you lead with when starting a conversation. Guerdy then said she hoped Larsa took the news "in confidence," as Larsa said she wouldn't "tell your story" to anyone else.
"I have to now tell the rest of the girls. There's never perfect timing with these girls," said Guerdy, before the two hugged it out and left their lunch. As they were walking out, Pippen joked, "What if I went to TMZ and told them right now? Just kidding!"
The post was flooded with comments on Instagram, with one of the most popular reading, "Not for nothing, there's something mentally off with Larsa, I can't peg it but she's off."
"There's no way that Larsa can blame this on production editing or anything taken out of context. There's zero excuse. She's like Erika Jane; someone needs to learn what empathy and compassion is," read another.
Added another: "Guerdy's ability to remain calm and try to teach Larsa to be a better listener while she's going through something so stressful is quite remarkable."
"Who asks 'How do you know?!?!' 😡 😡" wrote one fan.
Waiting for your permission to load the Instagram Media.
Instagram Media Unavailable
In another clip, cameras caught Pippen just six hours later sharing Guerdy's major life update with some of her friends and costars.
"I had the most stressful day today. I sat down for lunch and [Guerdy] said, 'I have breast cancer.' She literally said she has breast cancer," Larsa was seen telling two of her friends. "She's like, 'I haven't told a lot of people, but I want to tell you.' I felt horrible. She said she's like super early, I feel like it's gonna be okay. We're gonna pray on it."
She was also seen speaking with costars Marysol Patton, Lisa Hochstein and Kiki Barth, telling them all about Guerdy's diagnosis for the first time as well. They were all shocked and had a ton of follow-up questions for Larsa.
"I have chills just saying it. It's not bad. Stage I, it's early," Pippen told them. "She said that and I didn't know what to say."
Patton was devastated, exclaiming that everyone around her was "dropping like f–king flies," before breaking down in tears in a confessional over the "really upsetting" news. "I don't want to lose anybody else I care about … She has a little family, they're a young couple with little kids," she added.
The footage ends there, with Lisa expressing optimism that their friend and costar was "going to have a really long life" because she caught it early.
While the drama around Pippen spilling the beans will likely continue as the season continues, Guerdy recently revealed she's cancer-free after the "ringing of my radiation bell with no more cancer treatments to go."
RHOM airs Wednesdays on Bravo.
Waiting for your permission to load the Instagram Media.
Instagram Media Unavailable
Source: Read Full Article