There was a lot of confidence from the Masked Singer panel and a lot of wrong answers after Cuddle Monster joined the competition alongside Group C competitors Anteater, Candelabra, and Donut — who did enough to make the group finals, and who just sang their last masked song?
The final celebrity of the season joined The Masked Singer for "Trolls Night" in celebration of the upcoming Trolls Band Together film — and the first song by *NSYNC in 20 years.
Since Trolls don't have a deep music catalog, the show honored the film by looking at boy bands instead. And while we didn't get any *NSYNC appearances this week, or any other boy bands — we're looking at you Jenny McCarthy-Wahlberg! — we did get Poppy and Branch from the upcoming movie.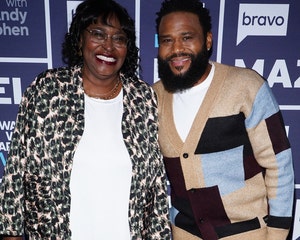 Anthony Anderson Shares How Traveling With His Mother Doris Brought Them Together (Exclusive)
Joining the returning Anteater, Candelabra, and Donut as the last Wild Card of the season was the biggest and hairiest costume in Masked Singer history. Was it terrifying or adorable? Well, it's called Cuddle Monster, so we'll let you decide!
Unable to render YouTube Video.
Anteater had to fight out of the Bottom 2 last week. Could he avoid having to do it again this week? Would that enormous Cuddle Monster costume hold an enormous talent, or a big disappointment? There's only one way to find out.
Let's jump right in with this week's mask. And don't worry, before we get to the shocking unmasking(s), we're going to make you power through the terrible (and occasionally good) guesses made by our illustrious panel of Robin Thicke, Jenny McCarthy, Ken Jeong and Nicole Scherzinger first. We do this because we love … to torture you.
Along with the panel's guesses, we'll be sharing some internet speculation, too, so if you don't want to be potentially spoiled (because they are very good at this), you may want to skip past the guesses sections.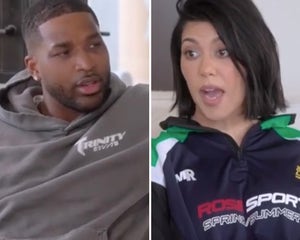 Kourtney Kardashian Tells Tristan Thompson He Doesn't 'Deserve Khloe,' As He Explains Why He Kept Cheating
ROUND 1: TROLLS NIGHT
Anteater
Unable to render YouTube Video.
("I Want It That Way," Backstreet Boys) Anteater definitely sings like someone who's been at this a long time. He's got a tone and crack in his voice that makes us think he's older now, but he's still got plenty of "it." He also didn't sit totally comfortably on the boy band vibe, suggesting he's from a different style of music. He tweaked it to better suit how he performs, giving us strong '80s pop rock vibes.
Guesses: This second clue package was packed with visual hints as Anteater talked about his competitive side. He even said he was good enough at wrestling in high school to play in college, but instead got into competitive racing, driving in America and the UK.
Among that plethora of visual clues was a coin with Jenny and Nicole's faces on them (causing Jenny to quip," Did we sleep with him?"), as well as a bowl of oatmeal with watermelons in it, a saw, planes and sports cars, a lost and found box with what looked like weights and red balls (or balloons) in them, and a full-length mirror he checked himself out in.
His bonus clue came from Poppy and Branch touring the studio lot. In a video clip, we saw them running by a "Hall of Fame" plaque. "I guess the Trolls just might know something about the Hall of Fame," said Anteater with a dramatic pause after "Hall" that feeds into the internet's favorite theory.
Last week, Anteater talked about the ups and downs of fame in his long career, where he learned the hard way that fame isn't everything. He shared having at one point the houses, sports cars, yachts, all of it. But then, some bad business deals and a loss of self cost him basically everything.
He said he regrouped with a chicken coop and a donkey named Jasper, building his dream home, starting a family and learning that sometimes you have to lose it all to gain everything. One striking visual clue was an eye painted on a wooden box. We also saw a glowing angelic shape in the sky and a cougar.
As for his one-hit wonder clue, that was "Somebody's Watching Me," by Rockwell. "There was a time when I performed in front of 40 percent of the entire world," explained Anteater. That immediately sent Jenny to joking he might be the Pope, while Robin Thicke immediately thought of the Live Aid concert in 1985.
Robin ignored the dramatic "Hall" phrasing and immediately started wondering which Hall of Fame he could be referring to. Jenny was wondering about Bob Seger or Dylan — no — while also wondering if it was Willie Nelson … who sounds nothing like this! Robin wondered about Paul Simon, who's definitely small enough.
Nicole is still on her John Mellencamp kick, thinking the watermelons in the oatmeal could be a reference to him — but we're going to look at it the other way. What if the reference is the oatmeal, as in John Oates as in Daryl Hall and John Oates and the "Hall" of Fame is for Daryl Hall … except he's so tall!
We definitely heard classic Hall & Oates on that one. Could Daryl Hall be hiding his 6'1″ frame in that costume? Probably not. More than likely, it's little 5'4″ Oates himself. The internet seems to be jumping on board with this one, too.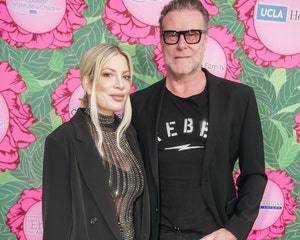 Dean McDermott Says He 'Petrified' Tori Spelling, Kids with Alcohol Rage as He Breaks Silence on Split
Candelabra
Unable to render YouTube Video.
("All My Life," K-Ci & JoJo) Candelabra has such a rich tone, she really belted this one. There was so much authenticity and passion in the vocal, it came through the mask. This is a seasoned professional with a strong R&B vibe to her vocal approach. She knows what she's doing and how to milk the most out of every note, while never betraying the message of the song. It was beautifully raw.
Guesses: In this latest clue package, we got images of fire starting with a house fire and escalating to a forest fire around what looked like a traditional fairy tale castle. In front of that, Candelabra talked about her struggles coming up in life with a mom in and out of her life and her even living on her own for years before a family friend took her in.
Additional images included tap shoes and a ring with the ring box labeled with a question mark. Along with this she talked about how she works so hard in her life because she's never fully satisfied. Nick said he was struggling with this one as he feels he knows them.
For the studio antics, Branch and Poppy stole a bunch of apples, revealing two cups labeled "REAL" and "TEA." Candelabra added, "I want you to know that on and off the camera, I'm keeping it 100 real."
With dreams that started at a young age, Candelabra last week said she was calling performers from her hometown from 12 years old for someone to give her a shot. All it took was one yes and her career began to take off. It was a dream she said she carried from a young age.
But even as things were taking offf, she never stopped the hustle, always working and pushing to keep herself and her career hot. She's got fans all over the worlds, plenty of accolades, but the hustle never stops. Visual clues included a phone call to Kevin Hart (is he from her hometown?), a picture of California, a blue butterfly, and a package labeled "Santa's Naughty List."
"Two Princes" from Spin Doctors blasted as her on-stage one-hit wonder clue. "Listen, who needs two princes when you have one fire princess," said Candelabra. Ken was immediately super-confident in throwing out his guess, Mariah Carey.
Thinking of "REAL" and "TEA," Robin wondered if it might be a reference to reality as in reality TV. Nicole started thinking of "epic singers" on reality TV, rattling off names like Tamar Braxton, Monica, and Fantasia … but got a big reaction when she considered Keyshia Cole. Could the princess and castle clues mark the Princess of Hip-Hop/Soul.
Jenny wondered, though, if maybe it was Ashanti: Princess of the documentary, while Ken wondered about Kelly Rowland. Michelle Williams was a butterfly previously, so could all those flitting about in the clue packages be a reference to her? The internet doesn't think so, as they're circling Keyshia Cole again this week, drawing closer and closer to consensus.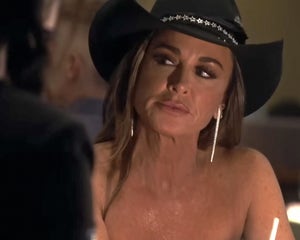 Kyle Richards Admits She's 'Not Happy' In Marriage, Reveals Issues with Mauricio on RHOBH
Donut
Unable to render YouTube Video.
("I Do (Cherish You)," 98 Degrees) Donut was singing from the heart on this one, bringing all his classic crooner swagger to a very simple, straightforward and beautiful vocal. This is the kind of singer who can take any song and filter it through what they do as an artist and make it their own. He morphed a classic boy band track into something at home on a vintage lounge singer stage.
Guesses: This week's clue was a heartbreaker as Donut opened up about finding and marrying his soulmate, whom he called "My Smile," and then more recently losing her. He even choked up talking about her, while celebrating all they accomplished together, like opening a studio.
He shared that he's "lived out a billion dreams," including movies and music while entertaining his fans for decades. We saw a film slate with "#1" on it, as well as a gumball machine and a magazine called Donut Adventures, amid all the classic '50s diner memorabilia.
Branch and Poppy shook a bottle of confessing "SEASONING," leading Donut to say, "I am well-seasoned and I have been enjoyed by several generations."
Last week, Donut said he's had a hard time being defined as how he sees himself. He said that a "mega hit" catapulted him to number one, but then says that he was mostly associated with a rough-and-tough "flavor," suggesting he was pigeonholed or typecast as one thing. He showed what looked like a law enforcement badge at this point.
There was an LA flag and the dazzling lights of show business showing cowboy boots as he talked about being a country boy with a refined side and even a theater connection with shows like Chicago and 42nd Street.
He said he's been known to pour his heart into a song or two, and is doing this show coming off of the toughest year of his life, hoping to turn things in a more positive direction. While there were a lot of neon lights, we definitely saw a focus on a bow-and-arrow, as well.
As for his on-stage clue, it was the one-hit wonder "How Bizarre," by OMC. Donut explained, "You know what's bizarre? Me being on one hit wonder night, because just like Rocky, I've got hit after hit after hit."
After the latest batch of clues, Ken quickly threw out Stanley Tucci, who recently lost his wife to breast cancer. He's been in several number one films. Robin, though, was thinking maybe it was Liam Neeson, who also lost his wife Natasha Richardson. But vocally, he's still hearing Tom Jones.
Nicole's guess was someone who started their career in the 1960s, Englebert Humperdink. She shared that his wife Patricia passed a few years ago and he struggled, as well, with this tragic loss.
But, and this is probably a major SPOILER so if you don't want to know jump way ahead, internet sleuths quickly picked up on that very specific "My Smile" clue and found an actor who's also moonlighted as a crooner with a very solid voice, and a very sentimental heart. Could it be Duke of Hazzard and Smallville star John Schneider?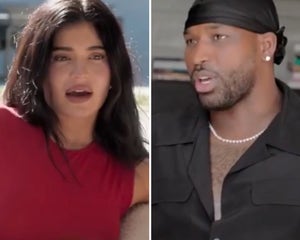 Kylie Jenner and Tristan Thompson Finally Hash Out Jordyn Woods Mess on The Kardashians
Cuddle Monster
Unable to render YouTube Video.
("You Got It (The Right Stuff)," New Kids on the Block) Cuddle Monster is not a singer as this was pretty rough any time he tried to find a note. It wasn't going to happen. He's a charmer, though, in the biggest and furriest costume in the history of the show, per Nick Cannon. That could explain why he also started to sound winded as that thing has to be heavy.
Guesses: Based on the sheer size of the costume, we were already thinking this had to be an athlete of some kind just to be able to manage it all. He talked about being a wild child but getting out of the "beautiful violent" place he grew up by leaning on generational talent.
He mentioned sponsorship deals and even a record or two, which means he was one of the biggest stars of his era — and we've seen some NBA players drop albums — while visual cues included a woman in a wedding(?) dress, boxing gloves and even the Wall Street bull.
He said that despite his success, he was self-destructing at the peak of his career. It was when he finally asked for help that he learned to stop being unhappy and defensive all the time and found an inner happiness. It was during this that we saw a glowing sword in a stone, as well a a crescent moon with a heart inside of it.
Poppy and Branch had a blinking "Champ" globe. "This clue should shed light on who I am," said Cuddle Monster. Robin immediately started thinking of Dennis Rodman, while Ken was thinking maybe it was this generation's Rodman, Draymond Green. Ken knows the NBA.
But Nicole thinks the Cuddle Monster might just be Shaquille O'Neal, who's put music out, while he also boxed Oscar De La Hoya — though she said "Renta." But is that Shaq's distinctive deep timbre?
Nobody online really had an idea on this one, though everyone wants a plushie. The name that came up the most outside of Dennis Rodman — famous for a wedding dress — was definitely Mike Tyson, though. Izzat you, Iron Mike? Other guesses included Michael Jordan, Metta World Peace, and Micheal Strahan, keeping the athlete vibe going.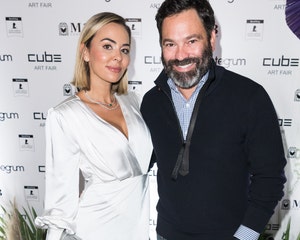 RHOM's Nicole Martin Puts Wedding Planning 'on Hold' Amid Pregnancy, Home Renovations (Exclusive)
ROUND 2: SMACKDOWN
We know that it's not always about the strongest voice, but we had to believe that Cuddle Monster, despite an adorable costume, would fall into this group tonight. He was the only one we are absolutely certain has never been a professional singer, no matter how many albums he put out.
As for who we'd put with him, the other three were all very strong. We'd probably go with Anteater, just because his voice cracked and he seemed a little less confident up there doing this. But what did the studio audience do? They got it exactly right!
Cuddle Monster v Anteater
Unable to render YouTube Video.
("Can't Stop the Feeling," Justin Timberlake) Cuddle Monster was just having a good time up there. He seemed to go for it, but he already knew he was outclassed. Clearly, this was about bringing a good time, and he certainly did that across both appearances tonight. Once again, though, he started sounding winded. How much does that thing weigh? Anteater was a little shakier than we expected on this one. We know this style is out of his wheelhouse, but he seemed really tired, for some reason. He's still the stronger vocalist, overall, but this was a tighter battle than we ever would have guessed.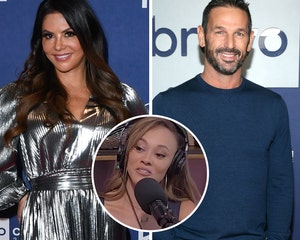 Captain Jason Chambers Allegedly Denied Adriana de Moura's Claims They Made Out
UNMASKING 8
Unless they want to punish him for also falling into the Smackdown last week, or they just really love the Cuddle Monster's costume and energy, this one had to go to Anteater, right? He's actually a capable singer, though he's been somewhat inconsistent. Cuddle Monster is a boisterous and fun presence, but he can't sing … as in he's out of tune, has no rhythm, this just isn't what he should be doing.
Ultimately, justice prevailed and Anteater emerged victorious again. While we'll miss the opportunity to see the Cuddle Monster costume again, we have to agree with this decision. He's just not made for this stage — the costume is, just not the man inside.
Robin Thicke: Dennis Rodman
Jenny McCarthy: Tristan Thompson
Ken Jeong: Draymond Green
Nicole Scherzinger: Shaquille O'Neal
Unable to render YouTube Video.
After a slew of pretty solid guesses, nobody got this one right. It was a basketball legend, but not one that first comes to mind. Instead, it was Metta Sandiford-Artest, who has previously been known as Ron Artest and Metta World Peace.
The Masked Singer continues with the Group A Finals as Cow, Gazelle, and S'More return to take on "Disco Night" next Wednesday at 8pm ET on Fox.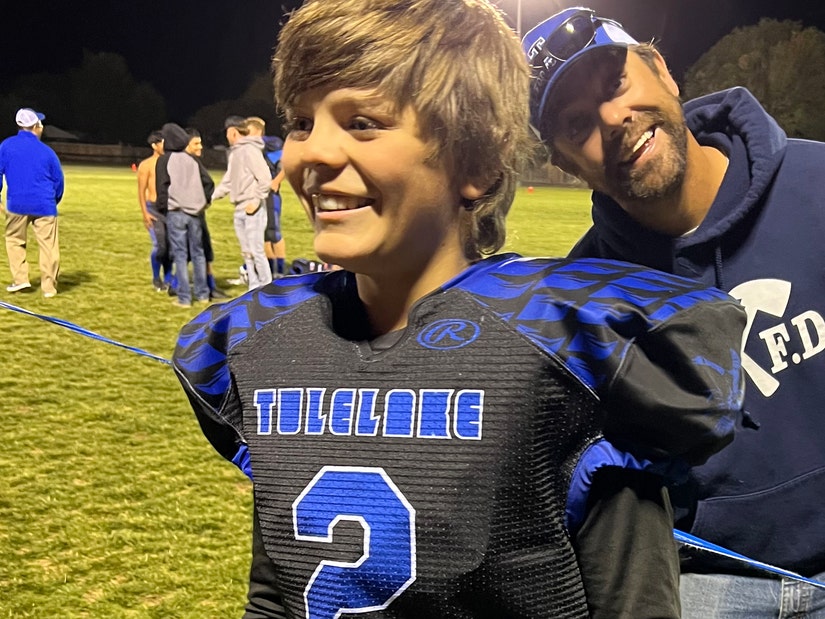 Source: Read Full Article