"Are we filming still?" exclaimed Tom after Raquel propositioned him … here's how Katie reacted when she found out!
A tipsy Raquel Leviss broke girl code on Wednesday's episode of "Vanderpump Rules," as she took her flirtatious relationship with Tom Schwartz to the next level.
The new hour began with some of the cast attending a gig for Tom Sandoval's band, after Katie Maloney left following a dispute with Scheana Shay.
Inside the bar, Raquel was seen throwing back drink after drink and exclaiming, "I'm just trying to like make out with somebody." Scheana, of course, egged her on, telling Raquel to go for it after Leviss asked, "Should I ask Schwartz if he wants to make out?" This after Katie already blew up at Scheana for previously pushing a Tom-Raquel hookup, following Tom and Katie's divorce.
With Scheana's approval, Raquel went right up to Schwartz and asked, "Do you wanna make out?"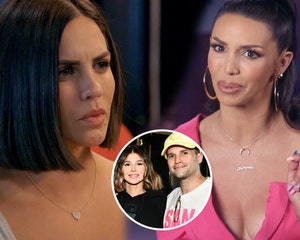 Katie Maloney Cusses Out 'Evil Little Troll' Scheana Shay for Pushing Tom-Raquel Hookup
"I would love to. I can't. It's a trap. You're too good for me anyways," he responded, before looking around for cameras and asking, "Are we filming still?" After realizing production was, in fact, still recording, he then told her, "You're f—ing gorgeous, but Katie, she feels a real connection with you and she just … yeah, anyways."
"I really like Katie as a person, but are we that close of friends? Like, no really," Raquel replied, as Tom again let her down, saying Katie would be "really upset" and he couldn't "do that to her." In a confessional, he added that he was "flattered" and finds Raquel "hot" — before admitting, "There's part of me that wants to have this fun, light-hearted tongue locked embrace. Why not? I'm single."
In the end, however, he didn't give in.
James Kennedy and Lala Kent Cheated on Exes with Each Other — Ally Lewber, Raquel Leviss React!
Later in the hour, Raquel came clean about propositioning Schwartz while grabbing food with both Katie and Ariana Madix.
"But why would you do that?" asked Katie, as Leviss let her know that he turned her down. "He is respecting your boundaries," said Raquel — prompting Katie to respond, "But you're not."
Raquel then apologized and blamed Scheana for putting the "initial idea" of a hookup with Tom into her head. That was all Katie needed to hear, as, in her mind, her suspicions about Shay were confirmed.
"I f—ing knew it. This is why she's dead to me," she exclaimed, before explaining why she wasn't as angry with Raquel in a confessional. "Raquel is not smart enough to come up with something this diabolical on her own," said Katie, "She's literally the human equivalent of cotton candy."
Maloney went on to thank Leviss for admitting her hookup attempt, before the trio planned a trip to Las Vegas to have a little fun. While Raquel and Tom will kiss at some point, a preview for next week showed her moving on from her Schwartz "crush" by making out with someone else — Garcelle Beauvais' son Oliver, who works at Vanderpump Cocktail Garden in Las Vegas.
New episodes of "Vanderpump Rules" air Wednesdays on Bravo.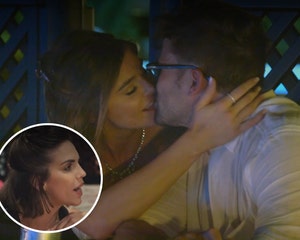 Katie Maloney Blows Up on Tom Schwartz Over Raquel Leviss Hookup In Explosive Vanderpump Rules Trailer
Source: Read Full Article