Anthony Joshua, left, and Deontay Wilder on stage at a press conference in Wembley

Sign up to our free sport newsletter for all the latest news on everything from cycling to boxing
Sign up to our free sport email for all the latest news
Thanks for signing up to the
Sport email
Deontay Wilder ducks his head, cramping his 6ft 6in frame under the vent in a seemingly endless, narrow green hallway in Wembley Arena, and howling as he marches towards his dressing room. Across the corridor – three steps for you or me, one for the American – is Anthony Joshua's dressing room.
Once inside his own, Wilder hurries to the bathroom, where he belts out the refrain of "This Is How We Do It" repeatedly, for about 90 seconds. When he emerges, the "Bronze Bomber" is ready to get down to brass tacks. Wilder soon declares that he has been metaphorically "knocking on Joshua's door for years", but what if he were to take the short trip across the hall and knock literally?
"At this moment in time, I'd tell him it's good to see him," the 38-year-old tells The Independent and a small group of reporters. "I'd tell him it has been a long time coming, and I wish him nothing but the best." Moments later, in Joshua's dressing room, I ask the Briton the same question. "I'd probably do more listening than talking," the 34-year-old replies. "I don't have much to say to these guys. I don't have much to say. These heavyweights, man…"
But these two particular heavyweights are not here for a press conference promoting a long, long, long-awaited fight between them. On this November evening in Wembley, the former world champions share a stage, and on 23 December, they will share a ring in Riyadh – just not at the same time. Joshua will box Otto Wallin, after Wilder fights Joseph Parker. Yet inevitably, our conversation in Joshua's dressing room revolves almost entirely around Wilder, and vice versa once we cross the hall, with December's event intended to pave the way to one of the most hotly anticipated fights in history.
And while Wilder's hypothetical message to Joshua is a polite one, it is not necessarily in keeping with his overall thoughts on "AJ" this evening. That's OK, though, because Joshua has no intention of pleasantries tonight.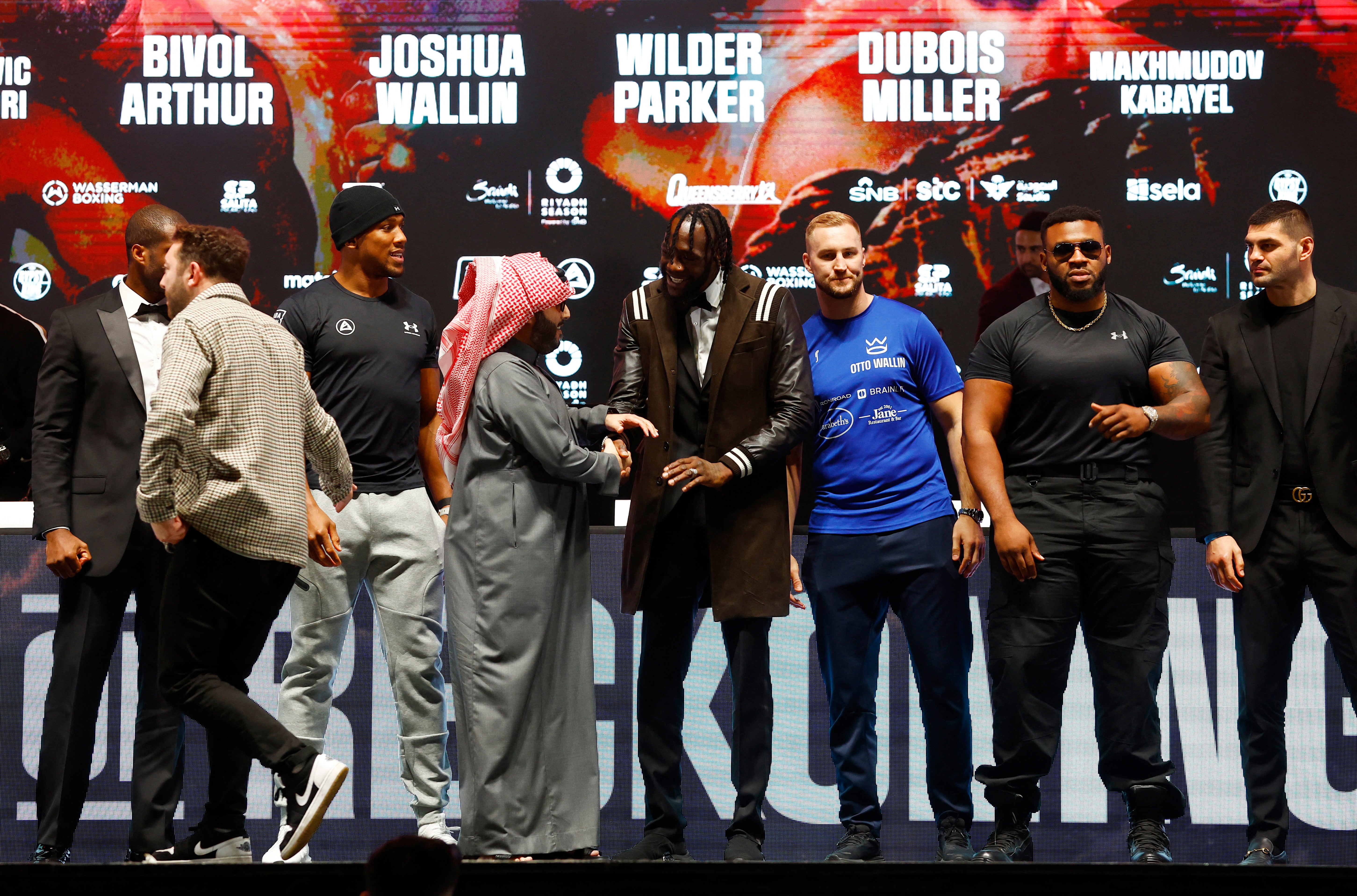 Joshua and Wilder are greeted by Saudi adviser Turki Alalshikh, while standing alongside fellow heavyweights
The Briton's first issue is with Wilder questioning his identity.
Wilder, sitting beside his manager Malik Scott, his arms stretching almost the entire length of their purple, velvet sofa, has this to say: "I worry about every fight Joshua is in. Eddie Hearn built Anthony Joshua; he wasn't born a champion, he was made a champion. I think they did a f***ing amazing job of promoting him and getting him to the top. I am happy for him as a fellow fighter, I am proud of him and happy for him. But I would have been the undefeated, undisputed heavyweight world champion many years ago, for many years, if I had the opportunities he was given.
"If you have a company with only one moneymaker, you will never risk him against the best, you will put him in with mediocre guys. I don't want to call guys mediocre, I'm not downplaying them, but they're not at the top of the competition.
"Man, Joshua better get ready. That's all I can say. It's that time."
Ten minutes later, we hear Joshua's response. "Who the f*** is he? He's a boxer, not a psychologist."
The Olympic gold medalist is reclining on a sofa beside Hearn, and sporting a grey tracksuit and a black beanie hat. It is a less ostentatious get-up than Wilder's tuxedo-and-varsity-jacket combination, and similarly, the dim, grey walls around Joshua are a world away from the flowered wallpaper in Wilder's room – if just a few steps away in reality.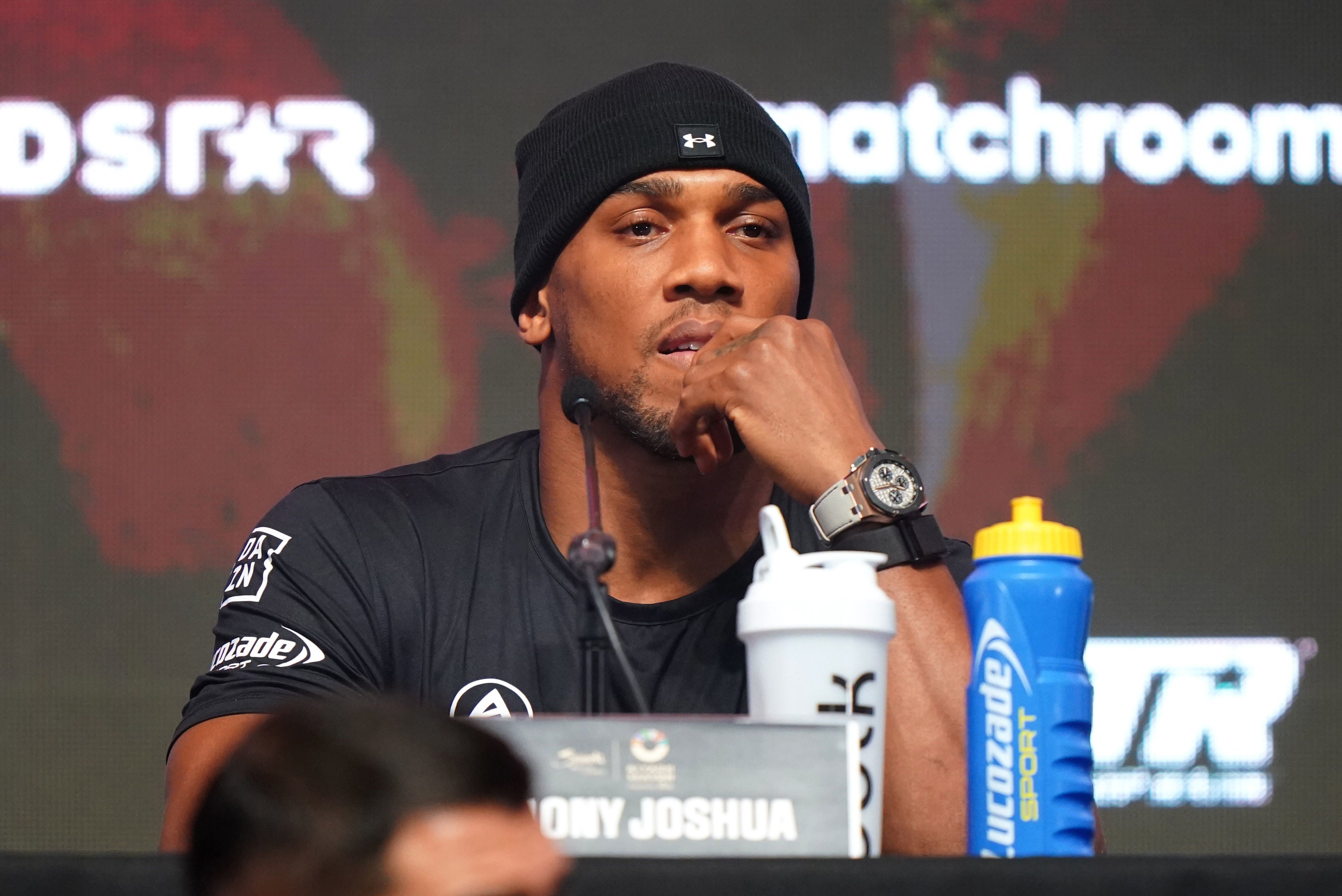 Joshua hit out at Jarrell Miller and host Dev Sahni while on stage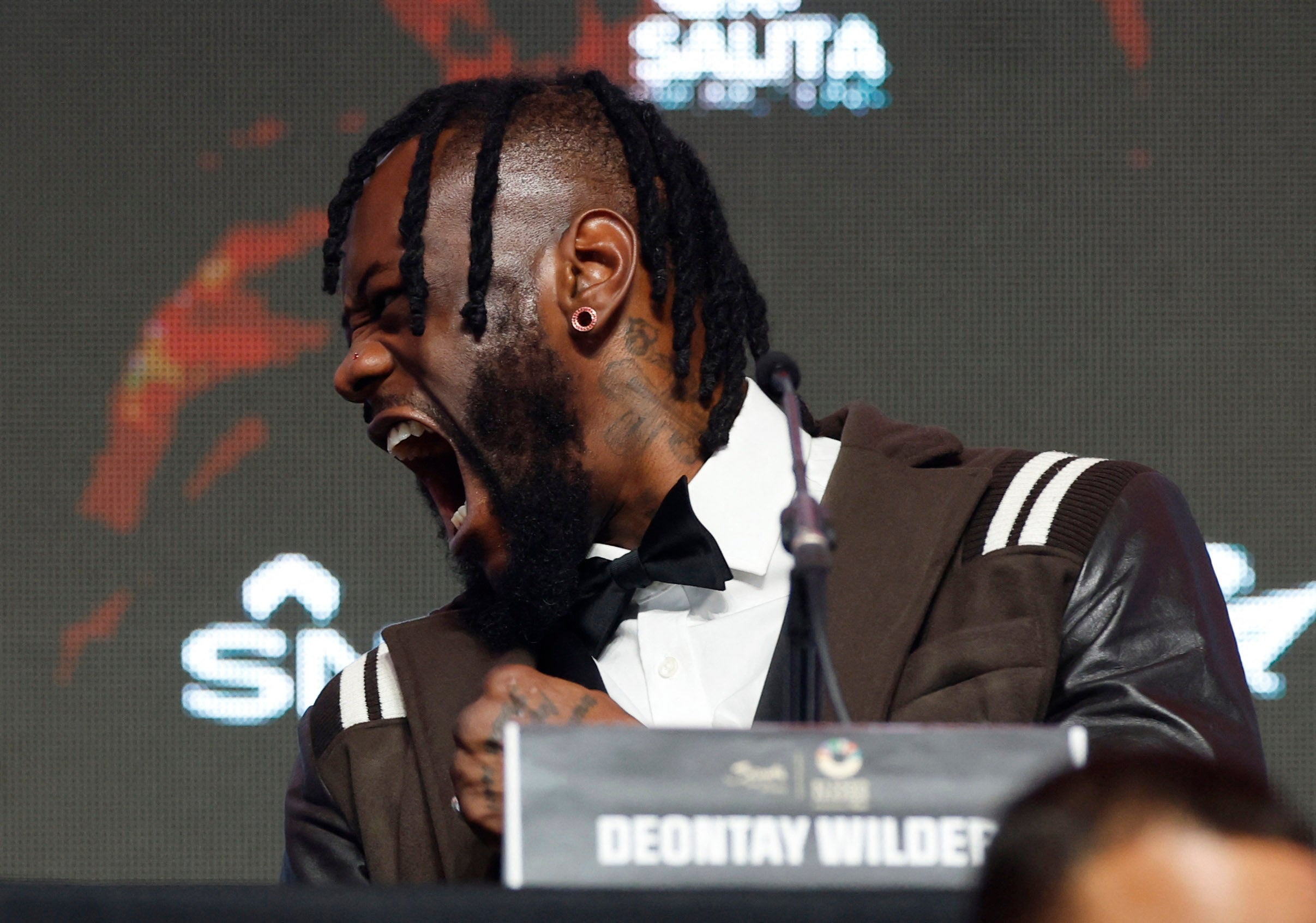 Wilder looking in Joshua's direction at Wednesday's press conference
"I've stood 10 toes on what I represent, I've been two-time champion of the world, defended, fought X amount of world champions," Joshua continues. "The boy has had 50 fights, and he fought Jason Gavern in his 30-somethingth fight; I fought him in my 11th. We are different; my identity is strong. If they're looking for weaknesses and gaps, then they need to stop looking over here, because I'm solid. I don't know what he's talking about if I'm honest."
Joshua, it must be said, seems to be in a somewhat prickly mood. It's apparent later, in his back-and-forth on stage with Jarell Miller (understandably, after the American's failed drug tests derailed their planned clash in 2019, leading to Joshua's stoppage loss to Andy Ruiz Jr) and his dismissal of host Dev Sahni. Joshua would prefer that Hearn ask him questions, not Sahni, who is employed by Hearn's rival Frank Warren. It is also evident in his response to a question about Ben Davison, who worked with Tyson Fury and is – in a sense – Joshua's fourth coach in two years. "I don't want to talk about trainers," Joshua says, before pretending not to know about Davison's past with Fury.
Wilder, meanwhile, is in a more playful mood, but he picks his moments to be cutting. After questioning Joshua's identity, he questions the Briton's grit. "I don't want you to get in the ring [with me] because the money's right; I want you to get into the ring because you feel like you can beat Wilder, in your heart," he says. "When you get in that ring, you're going to put on a great performance and not lay down the first time you get hit."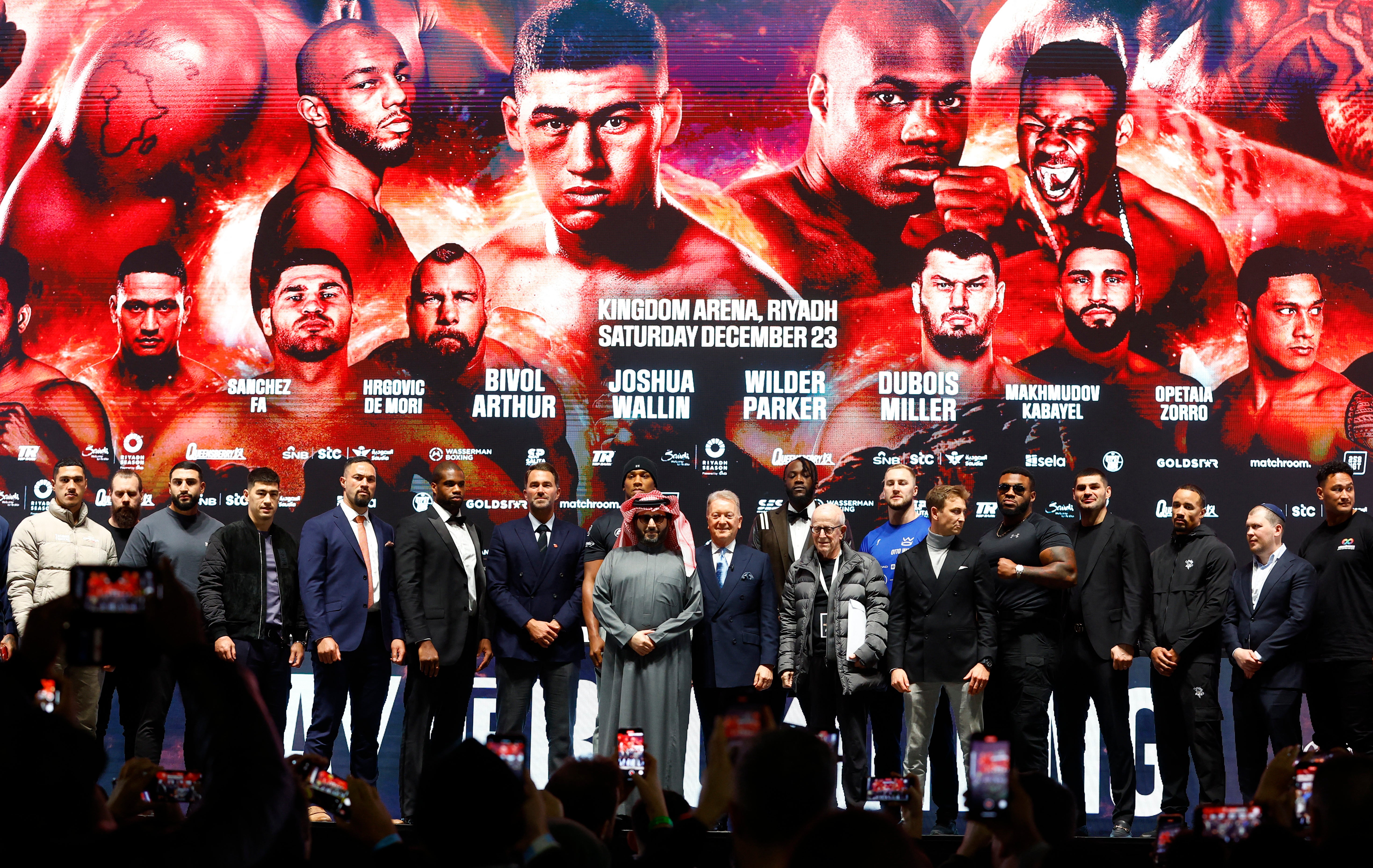 The press conference marked an astonishing gathering of fighters and promoters
Then, he questions Joshua's courage, to a degree. "The fight is closing in, and Joshua has nowhere to run. I don't think he's scared of me, but the people around him are. Maybe there is some fear in him, but we are in a business where we all risk our lives. The sport and the dangers get under your skin, so I understand that side, [but] everyone will get in the ring for the right price, especially when there is over $50m (£40m) on the table. Everything is going in the right direction now, and the fight will happen. The time is finally here, and people are going to get what they have wanted for years.
"There have been a lot of lies and manipulation going on, there have been a lot of years I have been waiting. I have never been the hold-up, and I could say a lot of things. All of these guys – promoters, managers – they don't want me to say certain things, because it exposes them. But, at the end of the year, we are here now."
Joshua, for his part, says: "We've stayed around long enough to see the changes happen, and just the timing factor. It was either going to happen now or 10 years from now, we were just lucky enough to be in the driving seat at this present time."
Yet, again, it is worth remembering: Joshua and Wilder are not fighting each other on 23 December. Instead, their respective bouts will top an admittedly remarkable card involving the likes of Daniel Dubois, Dmitry Bivol, Filip Hrgovic and Jarrell Miller. The event – the likes of which the boxing world has never seen before – marks a sudden, stupefying collaboration between Hearn's Matchroom, Warren's Queensberry Promotions, and various other companies.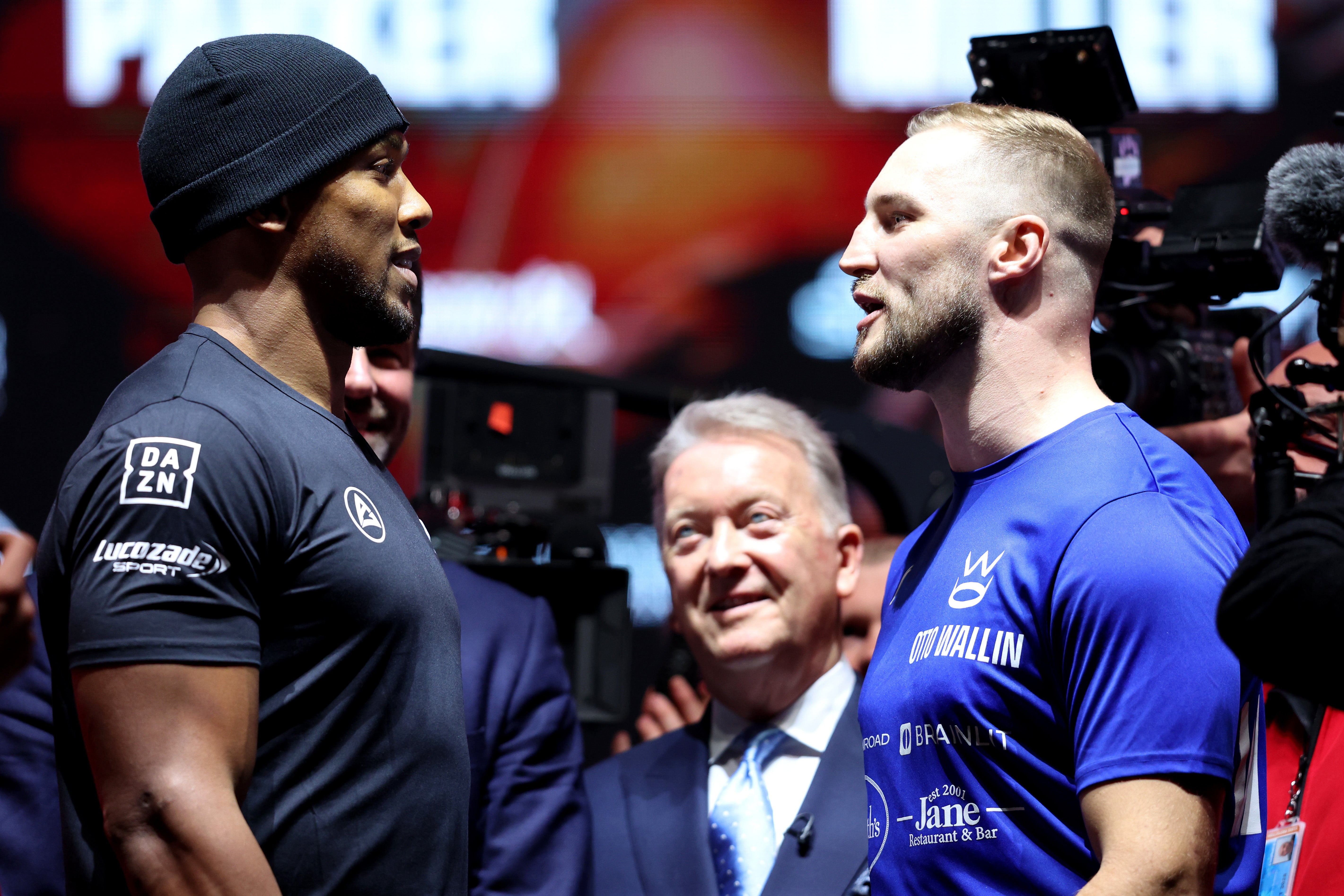 Joshua faces off with Otto Wallin, whom he beat twice in the amateurs and later sparred with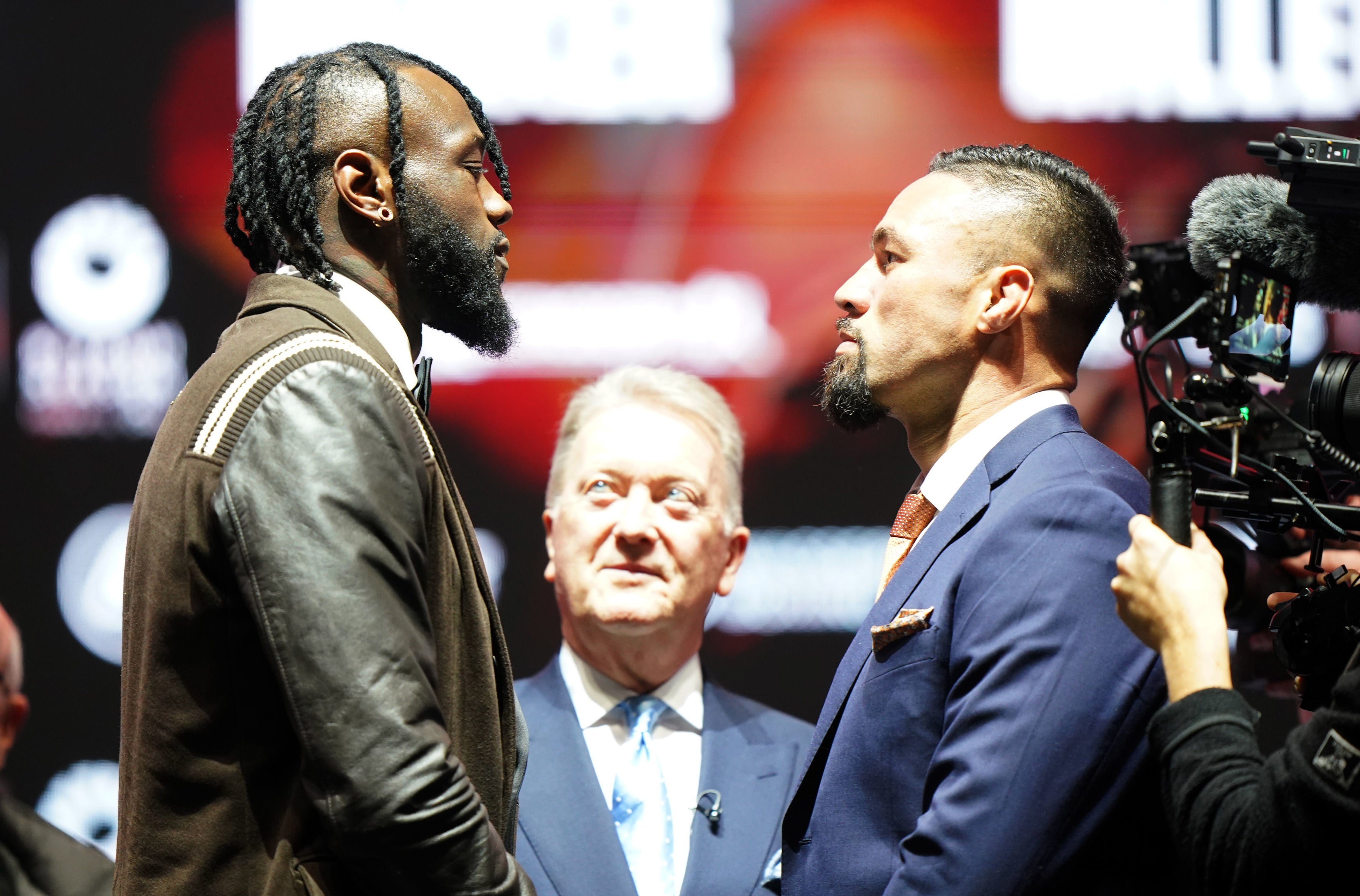 Wilder and Joseph Parker, a former opponent of Joshua, face off at Wembley Arena
"In terms of Frank and Eddie, you'd have to ask [Eddie]," Joshua says, "but me and Wilder, we're fighters; we were going to fight each other one day. It was either going to be on his card or someone else's card. To have us all working together, it's unbelievable."
But Joshua and Hearn repeatedly stress that Wilder may not even be next for AJ after 23 December.
"I want to go for the title – we might fight [Oleksandr] Usyk," Joshua says of the man who dethroned him in 2021 and outpointed him again in 2022. "It's better to plan for everything than to plan for nothing. This might happen, this may not. I fought a tall guy, [Robert] Helenius – that's leading me towards Wilder; I fight a southpaw [Wallin] – that's leading me towards Usyk. Either way, I'm going down a positive route.
"Do you know what's good? I've got opportunities. That's what I think is the best thing right now. I feel like the fight with Wilder is massive, it will happen, but I have options. I don't aim to be a part of the circus, I aim to own the circus."
Right now, boxing is certainly a circus. But how could you take your eyes off it?
Source: Read Full Article