Portraying Elvis Presley, one of the most beloved artists of all time, was no easy task for actor Austin Butler. The King of Rock 'n' Roll ruled hearts the world over from the release of his first single in 1954 until his death in 1977. Now, his life comes to the big screen in Elvis, a new film by acclaimed director Baz Luhrmann. Here's what Elvis star Austin Butler said about Priscilla Presley and preparing for the role of a lifetime.
Austin Butler on meeting Elvis' ex-wife, Priscilla Presley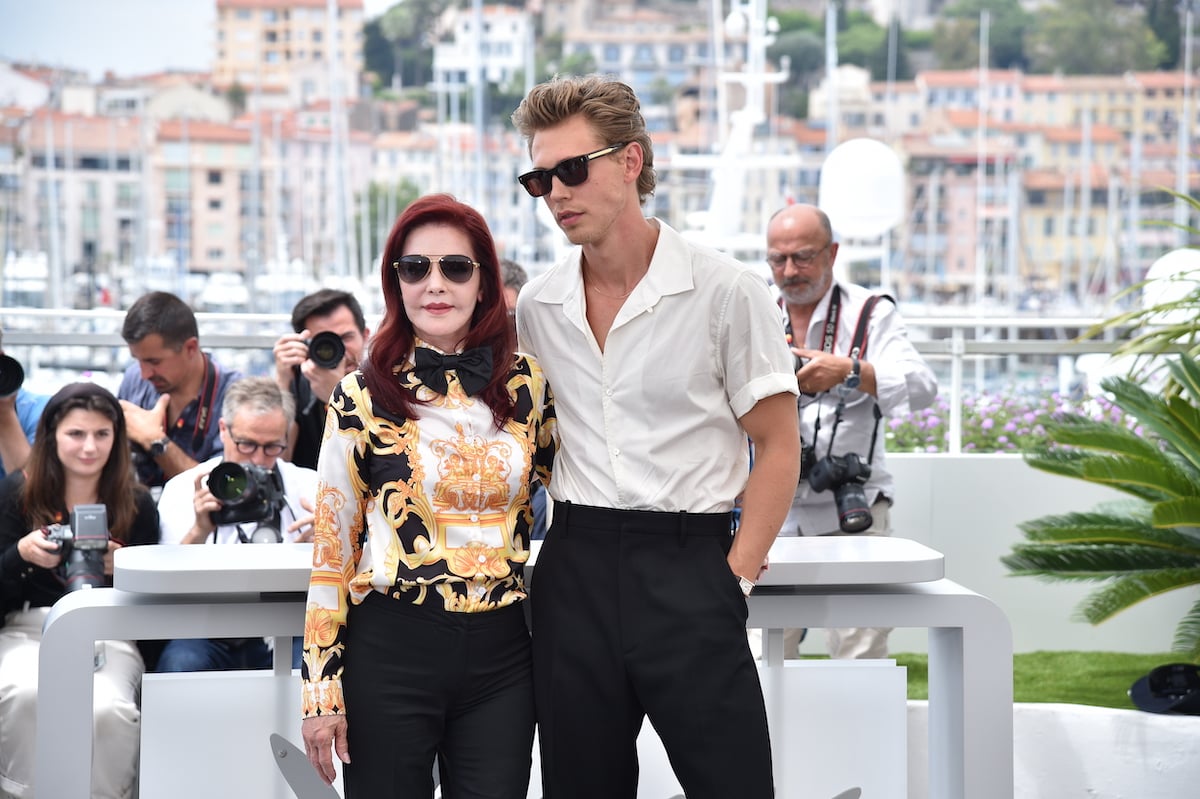 Portraying one of the world's biggest icons is a seemingly insurmountable task, and Butler went to great lengths to achieve authenticity in his role as Elvis.
One essential step in the actor's preparation was to meet Priscilla Presley. Though Priscilla and Elvis were married from only 1967 to 1973, Priscilla played a large role in the King's life.
The pair met in 1959, had a daughter (Lisa Marie), and agreed to share custody after their divorce. Priscilla and Elvis maintained a close relationship until Elvis' death.
Austin Butler recalls the huge impression Priscilla Presley made on him when he met her. "She looked like an angel," the Elvis star told GQ. "I walked down the hall with Baz afterwards with tears in my eyes."
The pandemic allowed Austin Butler unique preparation time
But the biggest key in preparing to play the King came from an unexpected event. Having been cast as Elvis in 2019, Austin Butler had spent a year preparing to play the iconic role when the COVID-19 pandemic hit and production shut down in March 2020.
Unsure how long it would be before filming would resume, Elvis producers wanted to send Butler back home to the United States, but Butler chose to remain in Australia, where the actor dived further into his research for the role. Butler told GQ how he transformed his apartment into something of a detective scene with "images of Elvis everywhere, from every time period." 
Like most of the world, Butler wound up in isolation for longer than anticipated — alone with his self-proclaimed obsession, Elvis, and incubating in his research for over six months.
"I think the film would have been very different if we had started shooting at that point," Butler said, "and I'm grateful I had the time to let myself marinate."
Riley Keough joins mother Lisa Marie Presley and grandmother Priscilla Presley in praise of 'Elvis'
After debuting at Cannes Film Festival to a 12-minute standing ovation, Baz Luhrmann's Elvis has been similarly well-received by critics and viewers alike. Elvis' ex-wife Priscilla, daughter Lisa Marie, and granddaughter — The Girlfriend Experience actor Riley Keough — have also praised the film.
After watching Baz Luhrmann's Elvis, Priscilla Presley posted on Instagram that the experience "brought tears… I relived every moment in this film. It took me a few days to overcome the emotions as it did with Lisa."
Elvis' daughter Lisa Marie also took to Instagram, posting that Austin Butler's portrayal of her father was "absolutely exquisite" and that the actor "channeled and embodied my father's heart and soul beautifully."
Keough also spoke at length about her emotional reaction while watching the film. "I started crying five minutes in and didn't stop," Keough told Variety during a Women in Motion interview at Cannes.
"There's a lot of family trauma and generational trauma that started around then for our family. I felt honored they worked so hard to really get his essence, to feel his essence. Austin captured that so beautifully."
It won't be long until the rest of the world can experience Baz Luhrmann's Elvis. The movie will hit theaters on June 24.
Source: Read Full Article