The View co-host Ana Navarro said she believes Jada Pinkett Smith "drops these bombshells" just to sell books, which she finds "unseemly" — she later claimed she believes Will Smith "is being held emotionally prisoner."
Jada Pinkett Smith was asked about Ana Navarro's recurring comments about her memoir on The View and she said it just proves Navarro didn't do her "homework" by reading the book. She also addressed why August Alsina's name was never dropped, despite their "entanglement."
The Red Table Talk star was a guest of Charlamagne Tha God on the latest installment of The Breakfast Club where she did not hesitate to call out Navarro's comments, as well as other critics of her new memoir, Worthy.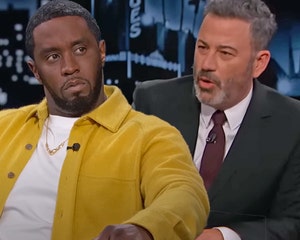 Jimmy Kimmel Bizarrely Confronts Diddy with Rumor He Wanted to Fight Will Smith Over J.Lo/Jada Threesome Proposition
"Well, I think if she took time to read the book, you know? I think that– If you wanna just read headlines, I could see how that could be confusing," said Pinkett Smith. "But the book is right here."
In fact, she added, skeptics can actually read two books as her husband's memoir is also out there. "People have a right to their opinions," added Pinkett Smith. "I always know that anybody who's saying that hasn't really done their homework."
Pinkett Smith isn't surprised by these reactions, though, because of those "clickbait" headlines generated from the book. "Will knows what it is, I know what it is, my kids know what it is, and, more importantly, Great Supreme does too," she said. "That's really all I'm concerned with at the end of the day."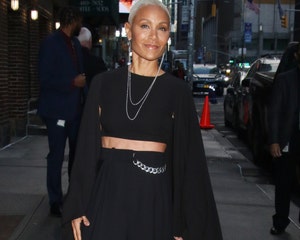 Jada Pinkett Smith Says She's Had 'Sexual Experiences with Women' as She Addresses Gay Rumors
Ultimately, though, while she's aware of the negativity swirling around the book, Pinkett Smith says she doesn't hang onto any of that, or really even keep track of who's saying what. Instead, she said she lets it go.
"Let me tell you, I've been there," she said. "I'm not gonna sit up here and act like I haven't. I've been there, thinking I know based on headlines." As such, she said she doesn't feel she can judge others for doing the same with her and her book.
Navarro did not hold back when talking about Pinkett Smith's memoir on multiple occasions on The View. The co-host claimed on October 11 that the actress "drops these bombshells" on purpose just "to sell books," which she said she finds "unseemly."
Later that month on October 23, celebrity memoirs were a part of the show's "Hot Topics" segment, and Navarro said she's "done with the Jada thing," and done "defending Will because Will is out there supporting her."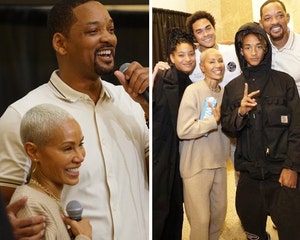 Will Smith Surprises Jada Pinkett Onstage, Says Relationship is 'Brutal and Beautiful'
"I think Will is being held emotionally prisoner," she threw out. "But you know what? It's their stuff."
She also affirmed that she had not read Pinkett Smith's book, and had no intentions to do so, by telling co-host Sunny Hostin, "I don't wanna read the book. I don't wanna give them another dime for her emasculating and embarrassing him to everybody in the world."
While Pinkett Smith was an open canvas about much of her life, she was also asked on The Breakfast Club why one of the most well-known names associated with her family was left out.
Despite Pinkett Smith's famous "entanglement" with August Alsina, the latter's name is never mentioned in the book. When asked about this, PInkett Smith said, "I felt like he's been through enough, and I just wanted to be respectful in that manner. I really did."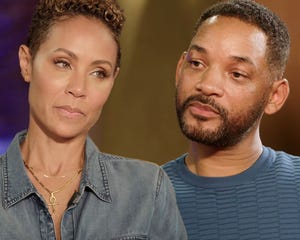 Why Jada Pinkett Smith Was Frustrated Over Red Table Talk with Will About Entanglement (Exclusive)
In fact, she said that she's hoping she'll be able to "heal" the situation between her and the R&B singer "at some point" Obviously, name-dropping him scandalously in her book might certainly have hindered those desires.
Pinkett Smith first opened up about her relationship with Alsina after the singer mentioned it in a 2020 interview. Will Smith then joined Pinkett Smith at the red table where she dropped the infamous "entanglement" line to describe what their relationship became.
Pinkett Smith may have avoided mentioning Alsina by name in her book, but she did discuss their "entanglement" briefly by way of a vague allusion to Hans Christian Andersen's cautionary fairy tale, "The Red Shoes."
"Like the girl in the story who is gratified by her Red Shoes, unaware of their destructive power until the rapture turns to pain, I got preoccupied with making up for lost time and reclaiming the days of my youth," wrote Pinkett Smith.
"The warning of the story is that once her dance begins, the orphan girl can't remove the Red Shoes no matter how hard she tries," she continued. "The only way to stop the dance is for her feet to be cut off."
You can check out Jada Pinkett Smith's entire chat with Charlamagne Tha God on The Breakfast Club below.
Unable to render YouTube Video.
Source:
Read Full Article